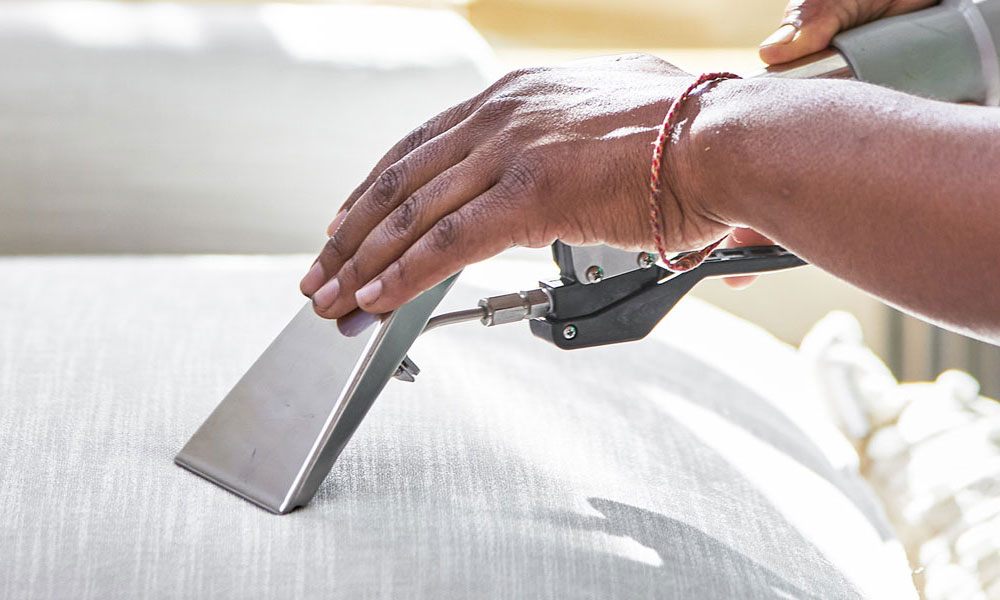 Burlington Furniture and Upholstery Cleaning Services
For the best upholstery cleaning services in the local area, Burlington homeowners can trust the experts at Timkha Chem-Dry! Your home's upholstered furniture – your sofas, love seats, and chairs –  get a lot use and need regular cleaning, just like your carpets. And for homes with pets and children, it's even more important to stay on top of it.
Mess is an inevitability in day-to-day life, but that doesn't mean you have to put up with stained and damaged upholstered furniture permanently. When you call Chem-Dry to clean your home's upholstered furniture, you ensure that they'll be looking and feeling as good as new in no time. Our locally-based Chem-Dry technicians are friendly, professional and well-trained. Their goal is to take care of your needs, exceed your expectations, and leave you with cleaner upholstery and a healthier home.
Your upholstered furniture is like a giant air filter. Over time, dirt and allergens throughout your home are trapped in its fibers, keeping you from breathing them in. But it also means that, like any other air filter, it needs to be cleaned properly and professionally. The professionals at Chem-Dry will always provide a stellar upholstery cleaning that you can trust is safe for your furniture, family, and pets.
Effective furniture cleaning is easier than you think. We don't take the excessive amounts of time or use the large amounts of water typical steam cleaners do. Our hot carbonating extraction cleaning process relies on the natural power of carbonation to achieve a deep clean faster than anyone else.
Millions of tiny bubbles, combined with our Chem-Dry green certified cleaning solution, The Natural®, lift dirt and grime from your furniture's fibers to the surface where our experts remove it with powerful extraction equipment. This process uses about 80% less water than traditional steam cleaning, which means your furniture should dry in hours rather than days.
Call us today for a free quote.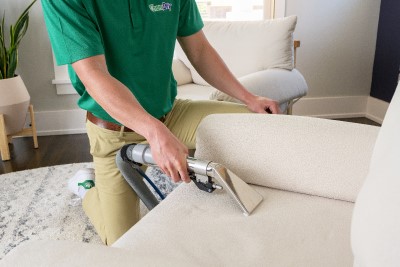 Our Upholstery Cleaning Process
Furniture cleaning doesn't have to use gallons of soapy water or harsh chemicals to be effective. Our Hot Carbonating Extraction cleaning process relies on the natural power of carbonation to achieve a deep clean. Millions of microscopic bubbles target dirt and grime deep in the fibers of your furniture and lift it to the surface where it is whisked away by our powerful extraction equipment.
The heart of this process is our Chem-Dry Green Certified cleaning solution called The Natural®, which is free from detergents, fragrances, and other harsh chemicals. Even better, our upholstery cleaning process uses around 80% less water than traditional steam cleaning, which means your furniture should dry in hours, not days.
Fight Upholstery Stains with Protectant
With the amount of use your upholstered furniture gets, spills are almost inevitable. Add kids or pets to the mix, and your furniture goes through a lot. Why not take a proactive approach to battle stains by having a protectant applied during your upholstery cleaning service?
Most furniture comes with a manufacturer-applied stain guard that tends to break down or fade over time. An application of our protectant can help restore it.
The protectant forms a protective barrier around upholstered furniture fibers. It will then repel a majority of stains, giving you a window of opportunity to soak up a liquid spill before it clings to the furniture fibers. Our protectants work with a wide range of furniture materials. One of our skilled technicians can advise you on the best choice for your furniture.
Defeat Stubborn Odors with Deodorizer
Refresh your clean upholstery with an application of our powerful Fresh-n-Free™ deodorizer. Our professional strength deodorizer reaches odors trapped within upholstery fibers and attacks them in multiple ways.
Fresh-n-Free causes chemical reactions that neutralize odors and also entraps odor molecules to easily extract them during our Hot Carbonating Extraction cleaning process. With this approach, odors aren't just masked – they're eliminated, leaving nothing behind but clean and fresh upholstery.
Our upholstery technicians are professionally-trained and prepared to help answer all of your questions. Call us today to learn more about our upholstery cleaning services.
Get Your Free Upholstery Cleaning Quote Today!
Contact us to get a free quote and request a service appointment. We'll discuss your needs, provide you with a no-obligation quote and can begin the cleaning process at your convenience.